Industrial Asphalt Company – Experienced paving company in the Chicago area
Lemont Industrial Asphalt Company is your go to choice when it comes to industrial paving projects in Chicago and the suburbs. With more than 60 years of experience, we have what it takes to complete your next project – no matter how big or how small.
We are an experienced team that has completed many types of industrial paving projects over the years. Whatever your project, Lemont Paving Company has the experience to get your job done right and right on time!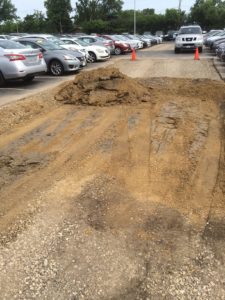 Frequent Industrial Paving Jobs:
Railroad crossings
Plant repairs
Truck docks
Roadways
Parking logs
Catch basins
We Are The Chicago Area's Choice for Industrial Asphalt Paving
At Lemont Commercial Paving Company, we work hard to build relationships with our customers on a daily basis. We make sure the customer is completely satisfied with the work, every time.
We know there is a certain level of inconvenience that comes with paving work, we remain flexible and accommodating to every customer's needs. We work to accommodate your schedule.
No matter the size of the paving job, Lemont Paving Company is the right choice for you. We know how to make your paving project look great, while providing lasting durability.
Contact Our Experienced Professionals Today
Many industrial paving jobs take a high level of precision and expertise to complete. Make sure you go with an experienced professional to finish your project the right way, the first time.
Our customers have given our work glowing reviews over the years. You can view some of our work on the sample paving page.
We are confident we can help with your next paving project.
For questions, or to schedule a project, contact Lemont Paving Company at (630) 257–6701.