An Experienced Asphalt Paving Company Serving the Chicago Area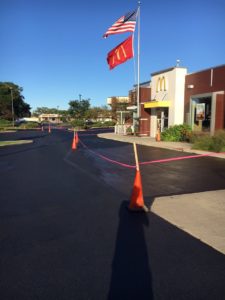 A freshly paved driveway, parking lot, or roadway makes a strong first impression. At Lemont Asphalt Paving Company, we have more than 60 years of experience creating a durable, long lasting, and beautiful product.
Lemont Paving Company is a licensed Chicago area paving company specializing in residential, commercial and industrial work. We've built our reputation as the dependable asphalt paving option in the Chicago area.
Our areas of experience include residential paving, commercial paving, industrial paving and a variety of related services and solutions for homeowners and business customers.
Our services include:
Asphalt repair
Asphalt resurfacing
Sealcoating
Cracksealing
Asphalt maintenance
Engineering
Striping
Grading
Some industries and sectors we've helped include:
Golf Courses
Private Roads
Shopping and Retail
Apartment Complexes
Office Buildings
Municipalities
Subdivisions
Homeowner Associations
Schools
Your Asphalt Paving Experts
Whether you are looking to repair some aging asphalt or replace an entire roadway or parking lot, Lemont Paving Company provides an experienced solution that you can trust.
We have built our reputation as your trusted paving experts. Our dependable paving team delivers quality work with great attention to detail and strong customer service. We maintain a high level of flexibility, with the ability to work around our clients' needs.
Contact Lemont Paving Company, An Experienced Asphalt Paving Company Today!
At Lemont Paving Company, we work on a variety of projects for our clients, including roadways, parking lots, driveways and much more. Whether your next paving project is large or small, let us help you.
We offer you a dependable product with a fresh look.
For questions, or to book your next project, contact us at (630) 257–6701.